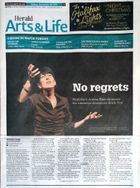 Thank you Stephen Cooke for publishing this article in the Chronicle Herald, leading up to what would have been Piaf's 100th birthday on Dec 19 2015.  Andy and I performed two shows for the occasion, one in Halifax at the Carleton and one in Wolfville at the Al Whittle Theatre! 
It was lovely to sing to a full house at the Carleton, and Stephen Cooke also caught the below action shot from that show (posted to Twitter)
Bon Anniversaire Édith!